Mud, mayhem and motorcycle madness as hundreds of bikers tear up the seafront to celebrate 32 years of beach racing at Weston-super-Mare on the West Coast of my Home country, I have been th this a couple of times with My brother, of which he still races in this event and it is the best fun you could ever be a part of on the Dirt bike fraternity.
The mud will be flying fast and furiously as hundreds of off-road bikers tore across Weston-super-Mare's seafront for the 32nd annual Beach Motorcycle Races.

From its humble beginnings in the early 1980s, the RHL Beach Motorcycle Races has grown to become one of the biggest events in the UK off-road calendar.
Around 1500 riders took part in this year's events, which were held over three days, with an estimated 90,000 spectators turning up to cheer them on and join in the fun.
Beach racing is an offshoot of enduro and motocross racing. Riders on solo motorcycles and quad bikes compete for up to three hours on a course marked out on a beach, with a series of man-made jumps and sand dunes to make the course even tougher.
Speaking to the BBC, Gareth Hockey, director of RHL Activities, said this year's event was 'a fitting celebration of three decades of racing on the Weston seafront'.
Plenty of action for the rider and the spectators as this is one of the biggest events of the season and time to race with the world champions and of course, have some fun.
Always great to watch side hacks and here are some at their best, the race will be held Tomorrow and wish I could be there, My brother Mick carpenter will be there to watch, he has races numerous times there and says its fun, challenging and you sweat your bollocks off but when you have almost 1000 riders some years at the start line, its a pure rush to get on the loud button and ring its neck out on the staright away of the beach.
Its total mayhem the longer the race gets away, some people know they dont stand a chance in hell of even finishing and dress up in all sorts of cool and funny costumes and a must to watch if you can get to the West Coast of the UK.
You will see so much action, this will leave a lingering effect on you, the noise of the Two and four Strokes blapping it out, the smell of Race fuel and steaming water cooled Ktm's fill the air on this spectacular annual event.
I brilliant event and gets bigger every year, this is the ONLY plave you will see world champions in one race like this and a great oppertunity to be able to see the faces you only get to see on the one eyed monster.
I sure hope at some pint in time they can livestream this event for the likes of people like us who are too far away to get to in time and would love to see the start and the first lap Live, that would be epic.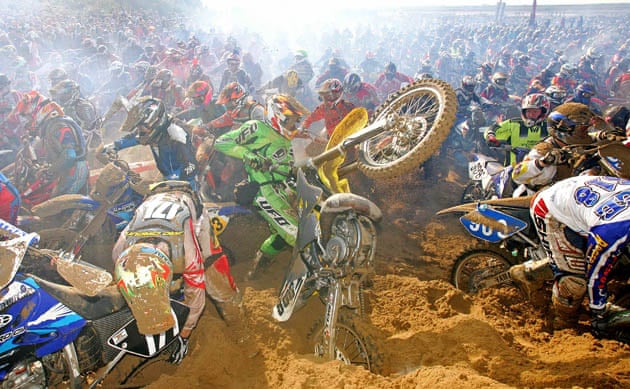 Just tons of motorcycles crowded for a Mad max style race that really is the best fun you can have on a wet weekend on the west coast.
In 2012 there were 1700 riders and was an amazing event for anyone to see thats for certain.
So, keep an eye out on the internet as someone may get to see it via a livestream somewhere, i shall obvioulsy do a blog about this as soon as I hear back from my brother and get a few cool stories right from the place.
So, like a bad carb from china, Stay tuned…..