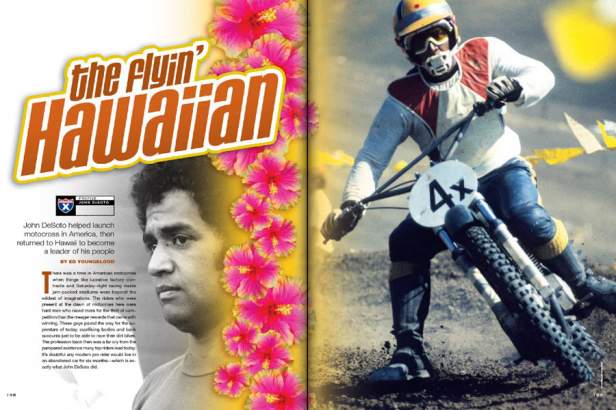 The Flyin' Hawaiian
One of my many legends in Motorcycle history was and still is Johnny Desoto, the Hawaiian kid was unreal on any 2 wheels and had thighs like tree trunks and would push hard all the moto.
Desoto was the man. I remember seeing him on Television and Johnny was in the pits at Ascot. He was in his org. Pinapple leathers. that dude's thighs were the size of tree trunks. one nite at lions he was on a brand new CZ. leading on the last lap his back wheel started to grenade. it stopped about 20 ft. b-4 the finish. he got off and picked up the bike throwing it across the finish line for the win.
I grew up always wanting a New motocross bike, me and my brother would read his Dirt bike magazines, wondering what it would be like to ride off road in the states and my dream actually came true as i now reside in California, where Johnny Raced many times and is one of my best Hall Of Famers.
John DeSoto
John DeSoto was one of the early pioneers of motocross in America. Known to his fans as the "Flyin' Hawaiian," DeSoto was a well known motocross racer during the late 1960s and early '70s. Coming to the mainland with one goal in mind – to race motorcycles – DeSoto started with nothing and clawed his way to factory rides. He won national-level motocross races in the days before the AMA fully recognized the sport and went on to compete at the world championship level.
DeSoto was born in Honolulu, Hawaii, on July 21, 1947. His father was an avid motorcyclist and racer who earned the colorful nickname of "Cobra." When the young DeSoto was around 5 years old, his father apparently thought it was a good time for him to learn to ride.
"I was at the controls of this Harley 45 with my father sitting behind me," DeSoto recalled with a smile in his voice. "He just stepped off the back of the bike and I was riding solo. Of course I couldn't reach the brake and finally in ran into a 55-gallon drum, which brought me to an abrupt stop. My father thought it was great fun, but of course my mother gave it to him pretty good for that one.
"I grew up riding out in the pineapple fields and up in the mountain trails. Hawaii was really a great place for a young motorcyclist."
DeSoto's first racing bike was a 200cc Francis-Barnett, or a "Fanny B," as they were popularly called. He then progressed to a Triumph and became Hawaii's leading young off-road rider.
"At first I went to some of the Southern California dirt track races at Ascot Park and some of the other tracks," DeSoto remembers. "Dave Aldana was coming up though the ranks and riders like Eddie Mulder were the hot riders. I ordered leathers and everything. Dirt track racing was really the only way to make a living racing motorcycles at that time. Santa Ana Harley-Davidson had a flat track bike lined up for me and Jack Simmons lined me up a Norton short track/TT bike."
But DeSoto's fate was to change when he happened to enter a European Scrambles race, which is what motocross was being called in the late 1960s. All the top MX riders, such as Gary Bailey and Preston Petty, were riding. The racing officials asked DeSoto about his racing experience and he told them he was a top rider in Hawaii.
"Of course they just laughed and said with sort of grin, "They race motorcycles in Hawaii? We thought they just grew pineapples and surfed' I told them I was an expert, but they wouldn't listen and made me enter the amateur race. I went out and lapped the entire field and of course then they refused to give me a trophy claiming that I sandbagged.
"What was important about that race was that I discovered that motocross was what I really wanted to do. That's the type of riding I'd done in Hawaii and it just felt natural to me."
DeSoto made a few friends in California, but was proud and did not want to impose on anyone. He found a car that was abandoned not far from the shop in North Hollywood he was racing out of and lived a homeless existence for six months, using the car as his home. He would go behind the shop and use the water hose to shower every day. But DeSoto never wavered from his goal and began to do well in the burgeoning sport of motocross.
He caught the eye of the West Coast distributor of Montesa and picked up his first support ride and was able to move out of the abandoned car. It still wasn't the life of luxury. DeSoto remembers the unusual transport he used to get his Montesa to the races.
"A friend let me borrow his Volkswagen Bug and I took out all the seats and would take the Montesa apart and cram everything into this little car. When I would pull up to the track people looked at me like I was crazy, but I didn't care. I was just happy to be racing."
DeSoto began establishing a reputation as a gritty and determined racer. He had a go-for-broke style of riding and was known as one of the first riders to do complete double jumps.
In addition to motocross, DeSoto also competed in numerous long-distance off-road classics like the Baja 1000 and Mint 400. He won the famous Elsinore Grand Prix in 1971. At the Baja one year, DeSoto managed to put his motorcycle past a truck racer, the legendary Parnelli Jones. As the two came to a large ravine DeSoto slowed to make the descent and with the heavy dust Jones didn't see DeSoto and accidentally rammed him from behind. A year later, before the start of the Mint 400 DeSoto finally caught up with Jones.
"I asked him if he remembered me from the Baja and he said yes, so I hauled off and punched him in the face. I'd heard that Jones had sort of a temper so I got ready for him to hit me back, but he just looked at me and said, 'I expect I had that one coming.' We became good friends after that."
Auto racing great Dan Gurney and comedian Tommy Smothers (of the Smothers Brothers) were both motocross fans and became friends with DeSoto. In 1969, Gurney and Smothers sponsored DeSoto to race in the world championship motocross events in Europe.
"I thought coming from Hawaii to the mainland was a big change," said DeSoto. "It was nothing like going to Europe. It was a totally different culture over there, but I made some great friends, including world champ Joel Robert, who helped me a lot. But we Americans still had a lot to learn to be competitive on the world level."
But, like the few Americans who had tried before him, DeSoto found the Europeans to be so far advanced in motocross that it was difficult to do well. He raced half of the season in the 250cc class before suffering a serious crash and injury in the French Motocross GP. A foot peg had pierced DeSoto through his armpit. He was flown to Spain to have surgery performed by doctors who regularly dealt with that type of injury with bullfighters.
After leaving Europe, DeSoto took an offer to race Husqvarnas for Edison Dye. He did that for a season and then signed with CZ. It was with CZ that DeSoto earned his greatest success. He raced for CZ through the early 1970s and was a top competitor in the Trans-AMA and Inter-AM motocross series.
On July 22, 1973, DeSoto won the AMA 250 Motocross National in Toledo, Ohio, as the top-finishing American. He represented the United States in the Motocross des Nations along with Mike Hartwig and Jim Pomeroy in 1973. DeSoto continued as one of the country's top motocross racers through the mid 1970s. He rode Kawasaki prototypes, helping to develop its successful line of motocross bikes. He also rode as a factory Suzuki racer for a time. DeSoto retired from professional motocross racing in 1975.
After retiring from racing, DeSoto moved back to Hawaii. He turned down offers to get into the motorcycle business and instead entered construction. He formed a canoe club in the early 1980s to help wayward kids and often gave talks to various groups on working with young people. It was then that a friend pointed out that everyone stayed to talk to DeSoto after his talks so he suggested he go into politics. At first DeSoto resisted, but encouraged by his family, he did run for office and was voted in as a Honolulu city councilman in 1986. He served the maximum four terms as councilman.
DeSoto continues to ride motorcycles recreationally and helps run various motorcycle racing events including one race called "The Cobra" in honor of his father.
John DeSoto was inducted into the AMA Motorcycle Hall of Fame in 1999.