Great Article via Bangshift and wanted to share it with you, as I have been into vintage vehicles for as long as I can remember and I had Never seen anything on these.
Posted by Brian Lohnes
By the middle 1960s, the interstate highway system was rapidly expanding across the country, tying the whole nation together with high speed roads that would change lots of things about American life. In particular would be huge changes to commerce between states and specifically the movement of goods. Without direct highways, truckers were taking sinuous roads that were not sufficient for trucks to move at advanced speeds or to cover large amounts of distance each day. By the middle 1960s, huge progress had been made on the project and companies like Ford and General Motors were trying to "see" the future and how these new roads would change vehicle design. Being that both companies had robust military contracting wings and those engineers and researchers had been working on gas turbine engines to power tanks, personnel carriers, and other equipment for years, it only makes sense that the technology would start to bleed over onto the roads of the country at some point. These light and powerful engines piqued the interest of engineers working on cars and trucks. Lots of people remember the famous Chrysler turbine cars, but far fewer remember Chevrolet's Turbo Titan III and Ford's "Big Red" which were fully operational big rigs that both debuted in the mid-1960s as an advanced look at the trucks which would soon fill the freshly built highways of tomorrow….but they never did.
Chevrolet's Turbo Titan III – The good looking little brother
Bigger and badder – Ford's "Big Red" turbine rig
So where is it now? No one really knows. Holman-Moody owned it for a while after Ford and the rumor is that the giant truck is sitting and slowing rotting at Ford's proving grounds in Dearborn, Michigan. We'd sure like to know if it is still intact, no matter how weathered.
A little help, anyone?
So there you go, I have always been fascinated with the odd, extreme and darn right crazy in the automotive world and hope that you enjoyed some of this today?  Here is a unique concept turbine powered Hauler aptly names, the Bison!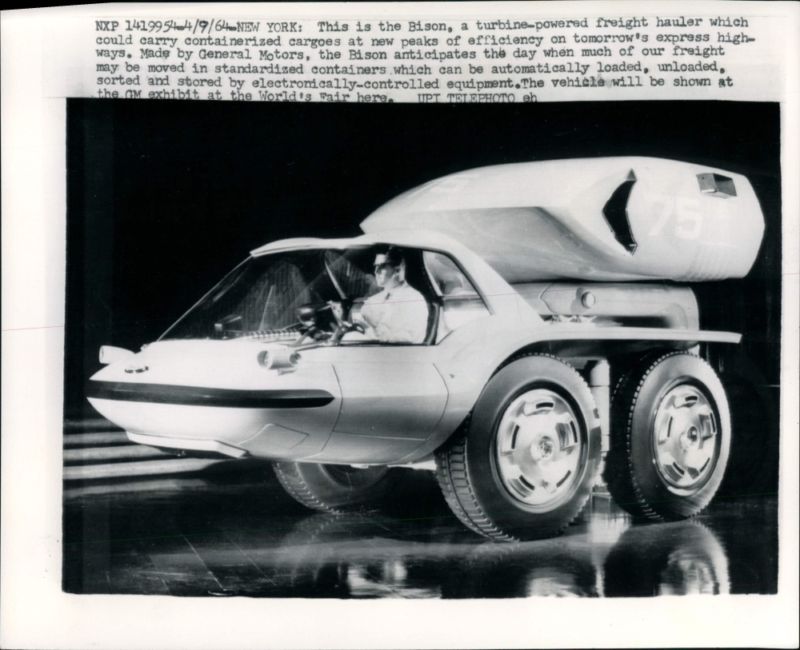 Always makes my day seeing cool concept stuff.
I would love to see the neighbors faces if I was cruising home in this.
But Concept Motorcycles, well, that's another cool Blog, stay tuned……